At Novex, no two days on the job are ever the same. As the boss of your own route, every shift brings new opportunities in keeping people and businesses connected across the Lower Mainland.
"I don't want to work anywhere else. I will retire here," said Van Chau, a Novex driver since 2008.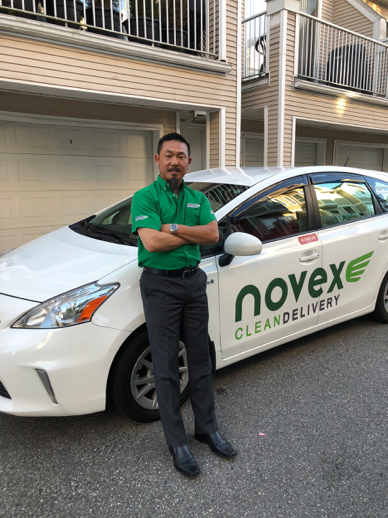 Previous to his career with Novex, Chau worked with a few other local couriers. He attributes his decision to switch to Novex to the company's environmentally conscious policies and the fact that he could play his part in changing the industry by operating a hybrid vehicle. He also found that the management was different than anywhere else he had worked before.
"Novex treats drivers fair and with respect. We all need that," Chau said.
After three months on the job, he had a meeting with a manager: "I was nervous, wondering what I did wrong, to be called to the office. But it turned out to be really positive."
The manager asked him about his initial experience of working at Novex, and what they could do better as a company to help the drivers. That collaboration between management and drivers, he said, is a point of pride for him in his career, noting that he feels inspired to be part of an organization that values the input of all its employees, while striving to find better ways to serve their customers.
"We have a lot of happy customers which makes us feel really good," said the long-time employee.
Chau recalled a time when he made a customer especially happy. It was during one of the busiest times of the year: holiday season.
He was covering a different driver's route and the client needed their package as soon as possible. To the customer's surprise, Chau got there ahead of time with a very important delivery, triggering an outpour of appreciation from the customer.
"It's what makes me feel good to come to work everyday," he says of moments like these where he gets to make a real difference for his customers.
If you are interested in joining the team you can learn more about the career opportunities here.