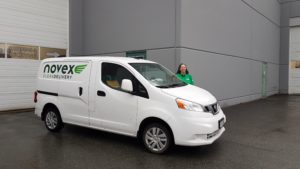 Same-day couriers roles are often dominated by men. However, more women are combining their passion for driving and customer service to break this stereotype.
"Women can be good at this job because of the need for attention to detail and the ability to multitask," says Cara Dicaire a Novex driver since 2004.
Her career a driver started shortly after she purchased a minivan for a new business venture. After the original idea didn't take off she decided to look for courier jobs to put the van to good use and eventually found Novex.
Today, Cara is loving her job as a route driver in Abbotsford. She says, "I've made a lot of friends driving around the community. My customers are like a big family to me."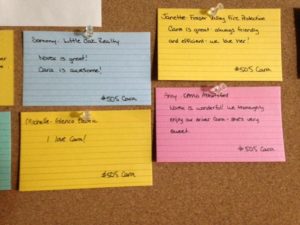 The results of nurturing these relationships is highlighted on the "kudos board", a place Novex uses to showcase the good reports
that their drivers get from customers. Cara has received quite a few "kudos" and ended up with her own corner.
Another thing that Cara enjoys about the job is the freedom she has. "I love the fact that I see friends every day and the customers are always glad to see you," she shared.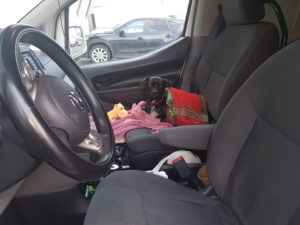 There is also a lot of flexibility working at Novex. Since Cara is a contractor, she can workup to 10 hours a day but takes about 4-5 weeks of vacation per year. She is also able to bring her dog, Jasper, with her to work and many customers enjoy greeting him and giving him treats.
The work doesn't come without its challenges though. Being able to think critically is very important since each day there might be slight variations in the route. It's ultimately up to Cara to plan her route to be as efficient as possible.
Bryan, Cara's dispatcher, communicates with her through an app about each package delivery. She says they have a great relationship. He organizes who takes which items and ensures that the drivers don't get overloaded so they can successfully deliver all of their parcels.
On top of the other perks to working at Novex, Cara says "I am extremely environmentally conscience myself, and the fact that Novex is as well, is a huge bonus to me".
Novex Couriers is an equal opportunity employer. If you are looking for a new career and love flexibility, apply here.